Alternet brings together international natural and social science researchers from 18 European countries to integrate our understanding of biodiversity, ecosystems, and the services they provide to society and to create a platform for meaningful communication with policy-makers and the public.
Alternet Newsletter – Spring 2021 Edition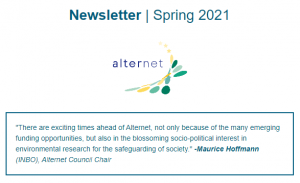 The Spring 2021 edition of the Alternet Newsletter has been released! Catch up on the activities of our network partner institutes and researchers. Read it here.
Davide Geneletti – Post COVID-19 City Challenge
DICAM partner Prof Davide Geneletti has received a winning prize in The Post COVID-19 City Challenge with a proposal for Renaturing marginal public spaces for people and ecosystems. Congratulations, Davide!
CESAM Recruitment for an ERA Chair Position
CESAM is looking for an ERA Chair holder to establish and lead an international, highly skilled research team in the area Environmental Economics and Natural Resources, in the scope of the H2020 ERA Chair project "BESIDE."