News from Alternet and our partners
Alternet keeps you up-to-date with news from our partners, activities, and the European biodiversity and ecosystem service research community.
Registration Open: Alternet Summer School 2021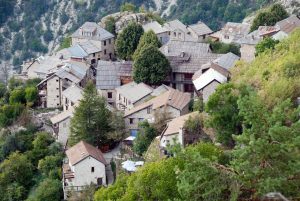 The 2021 Summer School will take place in Peyresq 6-16th October 2021, subject to national COVID regulations on travel. Open to graduate and postgraduate scientists (as well as professionals in related fields), the Alternet Summer School provides an innovative atmosphere for considering and resolving the sustainability challenges that society is currently facing.
Peyresq, a picturesque village in the Haute-de-Provence Alpes, provides an unparalleled setting for dynamic discussions.
Students must either show proof of vaccination to COVID-19 or a recent negative polymerase chain reaction (PCR) test taken no more than 24-36 hours prior to arrival. Further details on testing and COVID mitigation measures will be provided prior to the dates of the summer school. If the COVID situation prevents the school from taking place, a short online school will be organised, and any students accepted for the 2021 summer school will be eligible for the 2022 summer school.
Learn more on the Summer School webpage.
How to Apply
To apply for this year's Summer School, please complete the online application form. At the end of the application period, the conveners will assess all applications and contact each applicant with their decision.
Contact us
For all enquiries concerning the Summer School, please contact:
Davide Geneletti – Post COVID-19 City Challenge and Friedrich Wilhelm Bessel Research Awards
DICAM partner Prof Davide Geneletti has received a winning prize in The Post COVID-19 City Challenge with a proposal for Renaturing marginal public spaces for people and ecosystems.
Davide Geneletti has also been named recipient of the Friedrich Wilhelm Bessel Research Award by the Alexander von Humboldt Foundation in recognition of his outstanding accomplishments in research in the field of environmental planning.
The Awards are given annually to internationally renowned academics from outside Germany. Nominations for the Award may be initiated by established researchers at research institutions in Germany. The independent body that selects the award winners is comprised of around 22 academics of all disciplines. The main selection criteria include:
– An excellent research record with scientific achievements that have already influenced the
nominee's field
– Reasonable prospects for producing outstanding achievements with an impact that extends
beyond the nominee's immediate field of work
Further info on the award can be found here.
Congratulations, Davide!
Alternet Newsletter – Spring 2021 Edition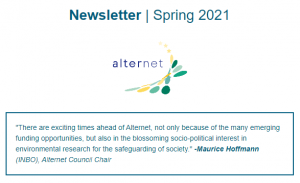 The Spring 2021 edition of the Alternet Newsletter has been released! Catch up on the activities of our network partner institutes and researchers. Read it here.
News from Featured Partners
This edition of the newly revived Alternet newsletter features news from the following partners:
CESAM, CREAF, Delbaere Consulting, DICAM, IAES, IGB, Hutton, NINA, ILE-SAS, SLU, and UFZ
NINA Report: Seabirds consume higher proportions of fish stocks when prey abundance is low
A new study from NINA signals the need for fisheries management to account for ecosystem constraints when setting catch limits in periods of low forage fish biomass.
Using data from five different marine ecosystems, researchers have tested the hypothesis of predator‐pit dynamics for forage fish. By examining the consumption of fish by seabirds and the effect of such predation on fish population dynamics, they found that seabird-induced mortality of forage fish varies with fish abundance.
Data from five countries and three continents
Seabirds are widely distributed and abundant forage fish predators on all continental shelf ecosystems around the world, and they can have significant local impacts on forage fish species often also targeted by commercial fisheries. An international group of researchers has examined to what degree natural mortality rates of forage fish may be influenced by seabirds. Compiling data on seabird numbers, diets, energetic needs and prey energy content and abundance, they investigated top‐down processes exerted by seabirds on forage fish stocks in five contrasting marine ecosystems off Norway, South Africa, Peru, Sweden and Scotland.
Recommended threshold for prey biomass
Results from the study showed that the proportion of a fish stock consumed by seabirds was generally low, but increased sharply at low levels of prey abundance. Predation by seabirds became a source of important additional pressure on prey stocks when prey biomass decreased below 15–18% of its maximum recorded value. For the sake of the forage fish themselves, the authors therefore suggest that this threshold should not be exceeded to avoid extra cautious management of fisheries. With regard to food requirements for seabirds, an earlier study demonstrated that seabird breeding success was heavily impacted already when prey stocks fell below 33% of their long-term maximum biomass.
Appeal to fisheries management
Despite exceptionally high rates of predation on some occasions, prey entrapment due to seabirds alone was not found in any of the five ecosystems investigated. The study clarifies predator-prey functional relationships between forage fish and seabirds and underlines the importance for fisheries management to account for ecosystem constraints when setting catch limits in periods of low forage fish biomass.
Read article: Seabird‐induced natural mortality of forage fish varies with fish abundance: Evidence from five ecosystems
Contact: Tycho Anker-Nilssen
In Memoriam: Leon Braat
We remember Leon Braat (Alterra/WENR), who was an integral member of the Alternet leadership and community. Leon passed away on 25 March 2021.
Leon was a friend, colleague, and driver of the Alternet network; he entered the Management Board in 2009 and worked alongside Alternet Coordinator Jiska van Dijk and MB Chair Daniel Terrasson. Following Daniel's retirement, Leon assumed the position of MB Chair–a position he held until his own retirement. He worked closely alongside Jiska, Ben Delbaere on projects including OpeneNESS and MAES, and greatly contributed to the Alternet Summer School prior to his retirement.
Leon was one of the founding fathers of the Ecosystem Services concept and the TEEB process. He is remembered by MB Chair Jiska van Dijk and Council Chair Maurice Hoffmann for their long and passionate shared discussions, and will be greatly missed by the entire Alternet community. Those who knew Leon are encouraged to share memories on his Memorial Kudoboard.
New Programme Of Undergraduate Summer Grants At CREAF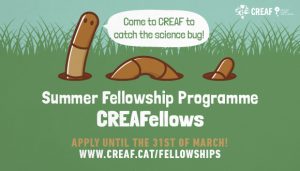 This summer and within the Severo Ochoa program, our partners at CREAF will offer to 4 undergraduate students the possibility of a two-month stay as an ecology researcher through the 1st CREAF Summer Fellowship Programme. It's aim is to become the first step of undergraduate student's research career.
CREAF is seeking 4 talented undergraduate students willing to be involved as a new generation of ecologists. Spend two months (between May and October 2021) with our researchers, doing field work, lab work, travelling, learning about databases. This experience will be a turning point in your studies, we want to inspire you as a future scientist in ecology.
Erasmus Mundus Master Course: Applied Ecohydrology
ERCE along with the UNESCO Chair in Ecohydrology and Applied Ecology (Lodz University) and the University of ALGARVE is launching a new master course for year 2021-2022. Alternet students are encouraged to apply!
With the support of the Ecohydrology programme of UNESCO IHP, an Erasmus Mundus Master course in Applied Ecohydrology, selected by the European Union for funding, will start in October 2021.
The Master course is coordinated by the UNESCO Chair in Ecohydrology: water for ecosystems and societies, of the University of Algarve, Faro, Portugal, in consortium with the University of Lodz and the European Regional Centre for Ecohydrology (ERCE – under the auspices of UNESCO) in Poland, the Technische Hochschule Lübeck (THL), Germany, and the University of Antwerp, Belgium.
The European Union fully supports all costs, including the travels, insurance, university fees, installation and also provides a monthly allowance of 1000 euros for the 24 month of the duration of the course for selected candidates from the entire world.
AHIA Publications
The 2018-19 AHIA project has yielded two new publications. Led by partners at SLU, this project is entitled "Land-sparing vs. land-sharing for functional green infrastructure that sustains biodiversity and ecosystem services? – European landscape approach initiatives provide regionally adapted solutions." This project was led by Per Angelstam of SLU and featured additional Alternet partners from ILE-SAS and SYKE.
Read the publications from this high-impact project:
Lead partner
Participating Alternet partners
New Partner: DICAM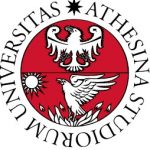 The Department of Civil, Environmental and Mechanical Engineering (DICAM) of the University of Trento has joined Alternet as its newest partner. DICAM advances knowledge and educates students in the science and technology that best serve the protection of the environment and the sustainable use of natural resources.
The membership to Alternet is coordinated by the Planning for Ecosystem Services Lab (PLANES). The scientific mission of PLANES is to promote applied research about the production and use of ecosystem services knowledge to improve real-life decisions, and particularly to support urban and spatial planning processes, land-use policies, environmental assessments (EIA and SEA), and urban design.
Current areas of research include nature-based solutions to promote health and environmental protection in cities; performance-based approaches in urban planning to enhance ecosystem services supply and benefits; ecosystem-based urban climate adaptation; and equity issues associated to the fruition of ecosystem services in urban areas.
We're excited to have DICAM on board and to have Italian representation in Alternet!
Launch Week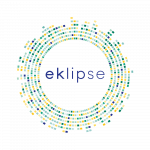 December 1st marked the handing over of the Eklipse mechanism over to the broader community, under Alternet management–and, thus, the launch of the official joining of Alternet and Eklipse. The week of 7-11 December was designated as a special launch event to mark this transition.
In addition to the promotion of the new Eklipse mechanism and partnership with Alternet, this week also saw the launch of both the new Alternet and Eklipse websites, new branding for both organisations, and the annual Alternet Council meeting, which was held virtually and hosted by CESAM.
"Together for better biodiversity policy, together for optimal science support." –Maurice Hoffmann, Chair of Alternet Council, director of INBO
IGB Publication – 14 key recommendations for the protection of freshwater biodiversity beyond 2020
The year 2020 marks the end of the UN Decade of Biodiversity. However, a UN report published in September shows that none of the 20 Aichi-Biodiversity Targets, agreed in 2010, have been achieved in the last ten years. Worldwide, the conservation of biodiversity therefore remains a major challenge –particularly for freshwater ecosystems which, so far, are insufficiently accounted for in political processes and regulations.
Recognizing the perilous state of freshwater biodiversity, an international research team led by the Leibniz Institute of Freshwater Ecology and Inland Fisheries (IGB), has now issued 14 recommendations for political follow-up agreements on the protection of biological diversity.
This study was initiated at the 2019 ALTER-Net and Eklipse conference in Ghent, which considered the European Biodiversity Strategy's post-2020 future and the role that research would play in contributing to this strategy and defining its goals. The conference featured an extended freshwater session; this present paper represents the direct and primary outcome of that session.

Freshwater is an essential resource for humans as well as nature. However, living organisms in rivers, lakes and wetlands are exposed to many human-made pressures. Climate change, overexploitation, changes and loss of habitats, pollution and the threat of invasive species are leading to a dramatic wildlife declines and losses. The 14 new recommendations for the global protection of freshwater biodiversity are based on current research knowledge and practical experience from European policy and administration.
These recommendations come at a time when two important international frameworks on biodiversity are being prepared: the Convention on Biological Diversity (CBD) and the European Union (EU) Biodiversity Strategy.
"This is an important moment to bring scientific knowledge into the process. Political strategies and decisions must emphasize the unique ecology of freshwater life and the many threats to it. In previous regulations, the protection of freshwaters has often been treated in an inferior manner. Inland waters have been included within land regulations – because they are not marine – or with seas and oceans – because they are aquatic. It is time that freshwater biodiversity is recognized in its own right – the latest Living Planet Report shows that the loss of freshwater populations is the most dramatic – a loss of 84 percent between 1970 and 2016"; stresses IGB researcher Sonja Jähnig, who lead the study.
Recognising inland waters as a true ecological "third realm"
In their very first recommendation, therefore, the authors argue that freshwaters be considered as a separate, ecological "third realm"; alongside land and sea, with special management requirements in future biodiversity agreements. For example, specific targets for freshwater ecosystems could be included in the existing Sustainable Development Goals (SDGs) 6 (Clean water and sanitation), 13 (Climate action), 14 (Life below water) and 15 (Life on land).
The Convention on Biological Diversity (CBD), adopted in 1993, also combines inland waters with terrestrial areas. The CBD Strategic Plan for Biodiversity 2011-2020 included 20 Aichi biodiversity targets. The most important targets related to freshwater ecosystems include: target 5 (Habitat loss halved or reduced), target 8 (Pollution reduced); target 9 (Invasive alien species prevented and controlled); target 11 (Protected areas increased and improved), target 12 (Extinction prevented).
Appropriate freshwater habitat targets should also be set within existing networks of protected areas, such as the European Natura 2000 network, which aims to protect core breeding and resting sites for rare and threatened species, and some rare natural habitat types.
Furthermore, many important freshwater habitats are overlooked, such as urban and agricultural water bodies. The separate designation of heavily modified water bodies (HMWBs) in the European Water Framework Directive (EU WFD) is a good example of how artificial or heavily human-influenced habitats could also be taken into account.
"Even if results of international conservation efforts have been very sobering so far – we scientists will continue to contribute our expertise to highlight the dramatic loss of freshwater biodiversity and help to mitigate and stop it. The recommendations formulated can help to improve the political framework for the protection of aquatic biodiversity"; emphasises Sonja Jähnig.
This is what the researchers recommend to policy and administration actors:
To recognise that:
1. Freshwater should be considered a true ecological "third realm" that deserves legal and scientific prominence in future frameworks and strategies.
2. Freshwater ecosystems should be viewed and recognized as life-supporting units that provide vital ecosystem functions and services in addition to their intrinsic value.
3. Connectivity across multiple spatiotemporal scales and hydrological dimensions is a vital part of conserving and managing freshwater ecosystems.
4. Freshwater ecosystems should be managed and delineated at the catchment scale, considering their drainage networks, catchment areas, and bordering ecotones.
5. Global conservation strategies should make use of systems-thinking to properly navigate the strong societal and economic importance of freshwaters.
Improve monitoring and management:
6) Restoration, improved management, and enforcement within existing freshwater protected areas could provide simultaneous climate and conservation benefits.
7) The identification and adoption of flagship umbrella species is a valuable step for increasing recognition and prioritization of the freshwater biodiversity crisis.
8) Improve the global evidence base for IAS impacts and the selection of IAS indicators of freshwater habitat status.
9) Freshwater monitoring programmes should be reviewed, better coordinated, and funded at national and global scales.
10) Hydrological and biological data on inland waters should be managed according to the FAIR principles (findable, accessible, interoperable, and reusable) to support data mobilization and access.
11) Future biodiversity monitoring schemes should take advantage of novel research methods and data sources.
12) Future policies should encourage strategic planning in catchment management to balance human and wildlife water needs.
Cross-cutting issues and approaches:
13) National- and local-scale biodiversity strategies pertaining to freshwater species listing and protection should be better informed by global assessments.
14) Future policies should support research and management that enhance the interactions between IWRM and ecological integrity for freshwater biodiversity conservation.
Eeva Furman: Friend of the UN 2020
Eeva Furman has been named Friend of the UN 2020 for her work promoting sustainable development. Eeva formerly served as ALTER-Net Council Chair from 2011-2014 and is the current Council Representative for SYKE, the Finnish Environment Institute. Congratulations to Eeva on this major (and well-deserved) honor!
"Professor Eeva Furman, the Director of the Environmental Policy Centre at the Finnish Environment Institute SYKE joins a prestigious group, when she is granted the Friend of the United Nations of the Year distinction during the upcoming UN week. The previous recipients of this honorary award include Finnish presidents Tarja Halonen, Martti Ahtisaari and Sauli Niinistö. The UN Association of Finland together with the Friends of the UNA network grant the distinction annually to a person, who has significantly promoted awareness about the UN in Finland, Finland's active role in the UN or strengthened the role of the UN internationally.
Furman receives the distinction for her remarkable work in promoting sustainable development. In addition to running the Environmental Policy Center at SYKE, Furman is the president of the Expert Panel of Sustainable Development. "For my whole working life, I have been involved in international environmental protection. During these years I have come to understand that working for the environment means also working towards peace", describes Furman. "Even though working towards the work program of the UN is a part of my job at SYKE, at the same time it is for me a channel through which to be a human, protect the weak and secure the ecosystems of this planet."
Furman was a part of an expert group of 15 independent participants appointed by the UN to assess the state of sustainable development. For a period of four years the group investigated what all countries and the UN should do in order to turn development into a path towards sustainable development."
AHIA 2020-21 Blog Post
In 2020, a new AHIA proposal was selected for funding. In the below blog post, the participating researchers explain the context and goals of this high-impact project.
AHIA 2020-21: Demonstrating dependencies between humanity and nature for a sustainable future: A nitrogen case-study
Through this project we want to explore how past and current research on the nitrogen cycle can be used to generate new insights on the dependence of humans on non-human-nature. Insights from this project will provide a new way to view humanity's place in nature and could help to shape the development of more equitable and sustainable environmental decision-making and management.
The nitrogen (N) cycle is a familiar concept. Many of us first encountered it at school, where it was used to illustrate the scale and importance of global cycles that link air, water, rocks and living things. Humans are often presented as the end recipient of natural processes like the nitrogen cycle, and sometimes are not shown as part of the cycle at all! However, humanity is part of the cycle, being both a direct beneficiary (of food) and direct contributor (fertiliser use) and is impacted by effects of nitrogen on air and water quality. This ALTER-Net High Impact Action (AHIA)-funded project questions what the nitrogen cycle would look like if we rebuild it to more clearly include humans and to show the true scale of our dependence on non-human nature. The project is driven by a desire to provide a different narrative of the relationship between people and nature, that better represents our place in the biosphere.
Through the 12 months of the AHIA award, our interdisciplinary group plans to identify and investigate human-nature relationships and dependencies. Many environmental disciplines argue that considering 'humanity' and 'nature' as separate is the origin of most environmental problems and there is a growing agreement amongst many people carrying out research on this topic that this view does not appropriately describe humanity's place on the planet. If we do not recognise this fact, and the negative relationship with the rest of nature that it can encourage, there is little hope of achieving the transformative changes to environment and society that we need to tackle global ecological change and the escalating climate crisis. The project will address a real, current challenge: how to better understand our dependence on nature to help us manage growing global environmental challenges. We recognise that attitudes towards our connection with nature can significantly influence our behaviour and choices, and that shifting attitudes in public and policy discussions is an important part of saving it. We know that nitrogen management underpins almost all Sustainable Development Goals and we hope that the project will add to recent efforts across a range of different development areas.
As students we most likely learned about the nitrogen's vital role in the biosphere: as a common limiting factor to plant and animal growth. It is a key nutrient on which nature depends. This means that nitrogen is not only vital in the right amounts for natural processes but also for human resource production, crucially food. As such, nitrogen is one of the most human altered cycles exceeding its 'planetary boundary' (the proposed level of change that the cycle can sustain before its effects on the functioning of the Earth System may be substantially altered) due to human actions. The nitrogen cycle is, therefore, high on the list of concerns for the global environmental change agenda. Being so critical in our basic nutrition it is also well researched, having many long-established methods for measurement in natural and human systems and there is a plethora of information available. This gives an ideal starting point for our intention to illustrate humanity's dependence on the rest of the natural world. We will develop the commonly used, simple 'nitrogen cycle' into a more detailed and nuanced 'nitrogen network', clearly showing linkages and demonstrating how changes in one part of the network can lead
to changes in many other elements of environment, economy and society. With this network as a tool we aim to demonstrate and acknowledge how humanity depends on the rest of the natural world in many ways beyond simple resource consumption. We hope to be able to illustrate human-nature relationships and dependencies to support decisions for transformative change into a sustainable future.
The project team and idea inception occurred at the 2019 ALTER-Net summer school, where we first met and began to realise both our common interests and the need for ideas going beyond current practice which led to the development of this project. This AHIA award project forms part of our ongoing conversations and collaborations.