Vacancies and available positions from Alternet partners.
CESAM Recruitment for an ERA Chair holder position

CESAM is looking to hire an ERA Chair holder to establish and lead an international highly skilled research team in the area Environmental Economics and Natural Resources, in the scope of the H2020 ERA Chair project BESIDE – Institutional, Behavioural, critical and adaptive economics towards Sustainable Development, management of natural capital and circular Economy". BESIDE is a six-year project awarded with 2.5 M €, that aims to reinforce and consolidate research expertise in Environmental Economics and Natural Resources at the University of Aveiro Associated Laboratory CESAM – Centre for Environmental and Marine Studies.
The mission of CESAM is to develop leading international research on environmental sciences and related risks, including extreme weather events and climate change, with emphasis on complex socio-ecological coastal systems and marine areas. The main objective of CESAM is to promote a more efficient use of terrestrial and aquatic (from catchment to the deep sea) environmental resources and a more competitive, resilient and sustainable economy, designed to endorse job creation and assure territorial and social cohesion Additional information on www.cesam.ua.pt.
The Chair holder will be hired for a five years' position, renewed annually, equivalent to Coordinator Researcher (the highest position for researchers in Portugal, equivalent to Full Professor) and will have autonomy to establish its own research team (1 Assistant researcher, 4 Junior researchers, 1 high level technician and 3 PhD students).
Appointment to the position will be in accordance with the salary agreement between the Ministry of Finance and The Directorate General for Administration and Public Employment. It will include 14 salaries (12 months, holidays, and Christmas allowances), Social Security, Labour Accident Insurance, and the right of protection in health ensured by the National Health Service. Please check the following links for more information on salary and taxation:
The official announcement will open soon.
INBO – PhD Research opportunity: socio-ecological keystone species
Through the application of a system thinking approach, this PhD research aims to explore (potentially hidden) species-based interactions between nature and society. We will analyze social-ecological keystone species coexistence with humans and societies and highlight indirect feedback loops, focusing on existing cases and action research in real-life situations and ongoing projects. This study focuses on:
exploring and analysing existing social-ecological keystone species
theoretical conceptualization of the concept
its consequences, potential and conditions for application
Opportunities from Alternet partners.
New Programme Of Undergraduate Summer Grants At CREAF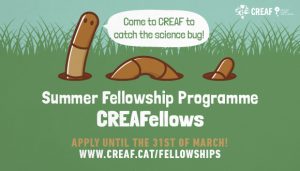 This summer and within the Severo Ochoa program, our partners at CREAF will offer to 4 undergraduate students the possibility of a two-month stay as an ecology researcher through the 1st CREAF Summer Fellowship Programme. It's aim is to become the first step of undergraduate student's research career.
CREAF is seeking 4 talented undergraduate students willing to be involved as a new generation of ecologists. Spend two months (between May and October 2021) with our researchers, doing field work, lab work, travelling, learning about databases. This experience will be a turning point in your studies, we want to inspire you as a future scientist in ecology.