James Hutton Institute Webinar – 22 June 2023
Alternet & James Hutton Institute SPI Webinar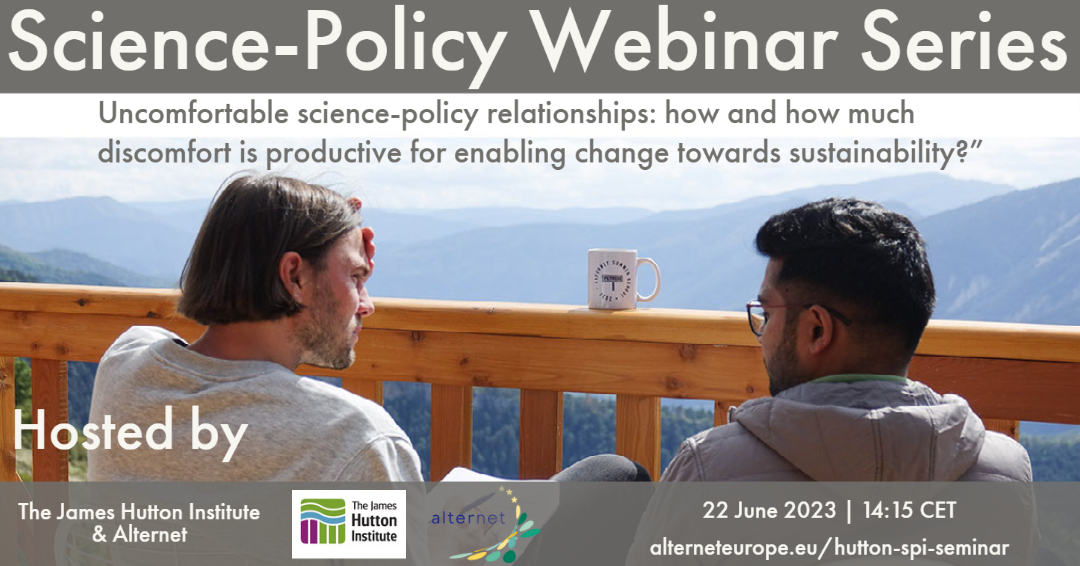 Uncomfortable science-policy relationships: how and how much discomfort is productive for enabling change toward sustainability?
Host: James Hutton Institute
Date: 22 June 2023
Time: 14:15 – 15:30 CET
In this webinar, we get uncomfortable! Past Alternet seminars have suggested that we need to shake things up and get out of our comfort zones in order for science-policy interfaces order to galvanise change for sustainability. This is easier said than done, as many of us instinctively back away from awkward, contentious, uncomfortable or stressful situations.
So, when do we need to get uncomfortable? What are the sources of discomfort? How can we handle discomfort in a way that is constructive, productive and personally viable? In this webinar we comfortably explore some of these issues through the interactions of an excellent panel of speakers with a diverse and impressive array of experiences of navigating science-policy interfaces.
Featured speakers:
Professor Peter Bridgewater currently chairs Wildlife Health Australia, and has previously directed the Division of Ecological Sciences in UNESCO and Chaired the UK Joint Nature Conservation Committee (JNCC). His extensive experiences of science-policy interfaces include chairing a range of intergovernmental bodies ranging from the International Whaling Commission, UNESCO's Man and Biosphere Council, the sixth Conference of the Parties to the Ramsar Convention on wetlands. And he assists Australia's work at the Intergovernmental Platform for Biodiversity and Ecosystem Services (IPBES).
Ms Eva Hernández Herrero leads WWF's Living European Rivers Initiative. For over 20 years she has worked on water policy and management, farming and rural development policy, on public participation, best farming practices, freshwater ecosystem restoration and land use planning. For years she coordinated WWF's challenging work in Spain's Doñana wetlands, dealing with illegal water use and abuse.
Sir Bob Watson is currently Director of Strategic Development for the Tyndall Centre for Climate Change research. He has worked in organisations ranging from the World Bank to UK government and academia.  He has played a key role in many intergovernmental processes and international scientific assessments, with past roles including Chair of the Global Environment Facility's Scientific and Technical Advisory Panel, Chair of the IPCC (Intergovernmental Panel on Climate Change), Chair of IPBES (Intergovernmental science-policy platform for biodiversity and ecosystem services) and co-chair of the Millennium Ecosystem Assessment.
Dr Kerry Waylen from the James Hutton Institute is the chair of the panel. She is a Research Lead in Environmental Governance in the Social, Economic, Geographical Sciences Department; she works to enable joined up, inclusive and adaptive approaches for nature and environmental management, often in the context of Scottish and European water management but also working in other settings, including in the Global South. Her career has included a fair share of entertaining and awkward situations in attempts to influence and engage with policy-makers.